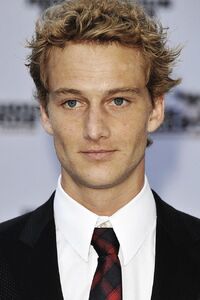 "Exciting, just exciting. Again, I was one of the last boys in the line, you know... when I was coming to the audition. And one of the great things about Quentin was that he, I thought, he was not very... he was not interested in what I've done before, and... do I have a career or not, he was just curious about, about the guy who was standing in front of him, and that was my only chance, and... and we kind of liked each other during the work and, and then we started trying... I mean he's a maniac, in a very very good sense, and... he's just curious about people I think, and that, made me work with him."

―Alexander Fehling about his work with Tarantino[1]
Alexander Fehling (born 29 March 1981) is a German film and stage actor. He is best known to International audience as Staff Sgt. Wilhelm in the 2009 Quentin Tarantino film, Inglourious Basterds.
References
Edit
Ad blocker interference detected!
Wikia is a free-to-use site that makes money from advertising. We have a modified experience for viewers using ad blockers

Wikia is not accessible if you've made further modifications. Remove the custom ad blocker rule(s) and the page will load as expected.