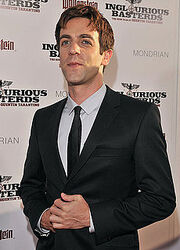 "It was such a glamorous movie story in a way you don't hear so much anymore. So I just followed it as a fan, it never occurred to me that I would have a part in it. And then I got a call in like August or September, Quentin Tarantino wants to meet you. And then it got delayed, and I thought 'of course.' But then sure enough, I met him, and we had like a forty-five-minute conversation about his movies, and what he thought of The Office, what he was planning on doing with this. And I'd always liked the part of Utivitch, and I kind of had to campaign for it."

―B.J. Novak on how he got his role[1]
Benjamin Joseph Manaly "B. J." Novak (born 31 July 1979) is an American actor, stand-up comedian, screenwriter, and director. He is best known for being a writer and co-executive producer for and playing the role of Ryan Howard on The Office, as well as appearing in Inglourious Basterds as Smithson Utivich.
References
Edit
Ad blocker interference detected!
Wikia is a free-to-use site that makes money from advertising. We have a modified experience for viewers using ad blockers

Wikia is not accessible if you've made further modifications. Remove the custom ad blocker rule(s) and the page will load as expected.