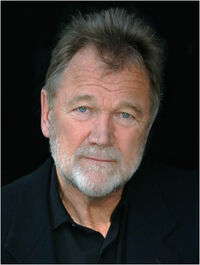 "Quentin was attracted to the title and the fact that the characters in the original were inglorious yet had a sense of dignity to them. They were willing to die for America, willing to die for the good America represented in World War II."

―Bo Svenson about the film title[1]
Bo Svenson (born 13 February 1941) is a Swedish-born American actor, known for his roles in American genre films of the 1970s and 1980s.
Svenson has a cameo as an American colonel in Quentin Tarantino's Inglourious Basterds, as a tribute to his role in The Inglorious Bastards.
References
Edit
Ad blocker interference detected!
Wikia is a free-to-use site that makes money from advertising. We have a modified experience for viewers using ad blockers

Wikia is not accessible if you've made further modifications. Remove the custom ad blocker rule(s) and the page will load as expected.