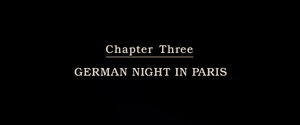 Chapter Three
(full name
Chapter Three - GERMAN NIGHT IN PARIS
) is the third chapter from the film.
Zoller says he always preferred the director and actor Max Linder to Charlie Chaplin, although Linder never made a masterpiece like "The Kid".
Zoller's character is also inspired by the American World War I hero Alvin C. York. In 1941, his exploits were narrated in the film Sergeant York by Howard Hawks with Gary Cooper.
The book that Shosanna reads in the bistro, is the French edition of the yellow "The Saint in New York" by Leslie Charteris. The book, published for the first time in 1935, is the fifteenth volume starring Simon Templar, known as "The Saint", an anti hero described by the author himself as a sort of modern Robin Hood.
Shosanna sarcastically invites Zoller to go to Vichy if it is so interested in having a French girlfriend. After the armistice signed by France and Germany 22 June 1940, the French territory was divided into two parts: the northern part was occupied by Germany while the southern part remained independent and the city of Vichy became the seat of the new government. In reality, the "Republic of Vichy" was independent from Germany on paper, since it was actually a puppet state maneuvered in all respects by the Third Reich.
The cigarettes smoked by Shosanna in the bistro are the "Gitanes". The original package with the fan and the oranges was produced from 1927 until the mid-'40s.
The matches seen on the table where Shosanna sits bear the inscription "Au Café Liliana".
When Major Hellstrom "invites" Shosanna to come with him, the film in the cinema The Gamaar programming is Le Corbeau.
Both Goebbels and Shosanna are presented through a still image and yellow text written on the screen. The same technique was used to introduce O-Ren and Elle Driver in Kill Bill Vol. 1.
The cigarettes smoked by Landa are "Eckstein" (brand name actually exists).The cigarettes that Landa offers Shosanna are "Reininger - Emil Jannings" (invented brand).
Chapter Three is the only chapter throughout the movie where someone doesn't die, and the only chapter where English is not spoken.
Ad blocker interference detected!
Wikia is a free-to-use site that makes money from advertising. We have a modified experience for viewers using ad blockers

Wikia is not accessible if you've made further modifications. Remove the custom ad blocker rule(s) and the page will load as expected.