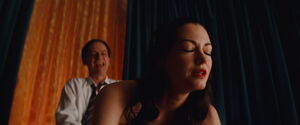 Goebbels's intimate room
was a chamber, possibly somewhere in France, where
Joseph Goebbels
and
Francesca Mondino
had sex.
Very little is known about the room, other that it's walls were covered in blue and golden curtains.
In Inglourious Basterds
Edit
When Shosanna is introduced to Francesca, the room appears in a flashback, where we see Goebbels with Francesca.
Ad blocker interference detected!
Wikia is a free-to-use site that makes money from advertising. We have a modified experience for viewers using ad blockers

Wikia is not accessible if you've made further modifications. Remove the custom ad blocker rule(s) and the page will load as expected.