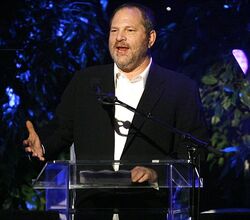 Harvey Weinstein, CBE (born 19 March 1952) is an American film producer and film studio executive. He is best known as co-founder of Miramax Films. He and his brother Bob have been co-chairmen of The Weinstein Company, their film production company, from 2005 to 2017. On 8th of October 2017, the company's board fired Weinstein following numerous allegations of sexual harassment and sexual assault and expelled from the Academy of Motion Picture Arts and Sciences.
He served as executive producer of Inglourious Basterds.
References
Edit
Ad blocker interference detected!
Wikia is a free-to-use site that makes money from advertising. We have a modified experience for viewers using ad blockers

Wikia is not accessible if you've made further modifications. Remove the custom ad blocker rule(s) and the page will load as expected.