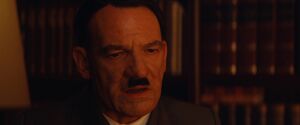 Hitler's private library
was a chamber in an unknown building in Germany, where
Hitler
talked to
Goebbels
about his plans to attend his latest film premiere.
Not much is known about the room, other that there is a bookshelf with many books, a fireplace and at least two chairs, where Hitler and Goebbels sat.
Chapter Four - OPERATION KINO
Edit
After Bridget von Hammersmark reveals the fact that Hitler will attend the Stolz der Nation premiere, we see a flashback of Hitler in this room, talking to Goebbels (not seen), about his plans to join his film premiere.
In the script, it is mentioned that Hitler was having dinner with Goebbels.
The fireplace observed in the scene is not the same as the one from the Burstich Garden, as that room was much bigger and there was no bookshelf there. It's unknown if the room is in the same building or in other location.
Ad blocker interference detected!
Wikia is a free-to-use site that makes money from advertising. We have a modified experience for viewers using ad blockers

Wikia is not accessible if you've made further modifications. Remove the custom ad blocker rule(s) and the page will load as expected.