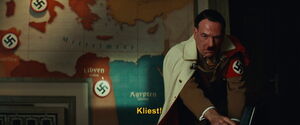 The
intercom
(
intercom
munication device) is a stand-alone voice communications system for use within a building or small collection of buildings, functioning independently of the public telephone network.
In Inglourious Basterds
Edit
Adolf Hitler used one such device when he called Kliest torelay an order to the German soldiers stationed in France. Hitler also requested that private Butz be sent to him, after being reminded by Kliest.
Ad blocker interference detected!
Wikia is a free-to-use site that makes money from advertising. We have a modified experience for viewers using ad blockers

Wikia is not accessible if you've made further modifications. Remove the custom ad blocker rule(s) and the page will load as expected.