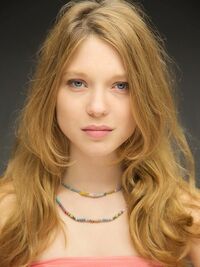 Léa Hélène Seydoux-Fornier de Clausonne
(born 1 July 1985) is a French actress. She began her acting career in French cinema, coming to attention after she won the Trophée Chopard Award for Female Revelation of the Year at the 2009 Cannes Film Festival.
Since then, she has appeared in major Hollywood films including Inglourious Basterds (2009) where she played the Charlotte LaPadite, Robin Hood (2010), Midnight in Paris (2011) and Mission: Impossible – Ghost Protocol (2011).
Léa Seydoux and Christoph Waltz appeared in Spectre. Léa is the Bond girl and Waltz is the Bond villian.
Ad blocker interference detected!
Wikia is a free-to-use site that makes money from advertising. We have a modified experience for viewers using ad blockers

Wikia is not accessible if you've made further modifications. Remove the custom ad blocker rule(s) and the page will load as expected.