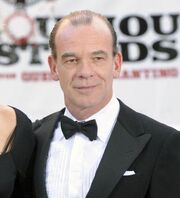 "Tarantino finally said to me: "I would like you to play - you cannot imagine yet... to play Hitler?" I replied: "Please no! I really don't feel like it!". A short time later I told that to a friend, who looked dumbfounded to me: "It doesn't matter who you're playing. I would like once in lifetime to go to the cinema and see you in a Tarantino film". Ten days later I called Tarantino and said: "All right, Hitler"."

―Martin Wuttke about how he accepted the role.[1]
Martin Wuttke (born 8 February 1962) is a German actor and director who reached international recognition for his portrayal of Adolf Hitler in the 2009 film Inglourious Basterds.
References
Edit
Ad blocker interference detected!
Wikia is a free-to-use site that makes money from advertising. We have a modified experience for viewers using ad blockers

Wikia is not accessible if you've made further modifications. Remove the custom ad blocker rule(s) and the page will load as expected.