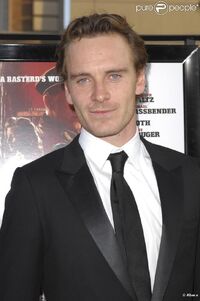 "When I was like 18, I got my friends together and we put on a stage version of Reservoir Dogs in my local nightclub, so to actually get to work with him was a dream come true. Once I got beyond that, it is fascinating to watch the man work because he does really works in his own, unique way. He [Quentin Tarantino] is so knowledgeable in film. He does his craft by absorbing all the information. He is an encyclopedia. He is just a dream to work with. He gives you a lot of information, outside of what is written, and his reference points are very precise and original. He told me that this guy, Hicox, is like a young George Sanders. All you have to do is listen to the man, and he gives you all the ammunition you need. So, I went out and watched all the Sanders films I could get my hands on.[1]"

―Michael Fassbender
Michael Fassbender
(born 2 April 1977) is a German-Irish actor. He is best known for his roles as Lieutenant
Archie Hicox
in the 2009 film
Inglourious Basterds
, Magneto in the superhero film X-Men: First Class (2011), and the android David in the science fiction film Prometheus (2012).
References
Edit
Ad blocker interference detected!
Wikia is a free-to-use site that makes money from advertising. We have a modified experience for viewers using ad blockers

Wikia is not accessible if you've made further modifications. Remove the custom ad blocker rule(s) and the page will load as expected.