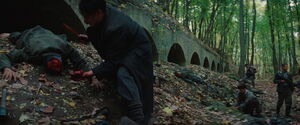 Omar's knife
is a Bowie knife that he used to scalp Nazis.
Omar's knife is a Bowie knife, average size.
In Inglourious Basterds
Edit
Omar is seen using one to scalp a dead German soldier in the woods and removing some larger pieces of blood or flesh from the scalp.
Omar is not the person who scalps the first dead German soldier (actually a dummy of Quentin Tarantino), as his clothes are different.
Ad blocker interference detected!
Wikia is a free-to-use site that makes money from advertising. We have a modified experience for viewers using ad blockers

Wikia is not accessible if you've made further modifications. Remove the custom ad blocker rule(s) and the page will load as expected.