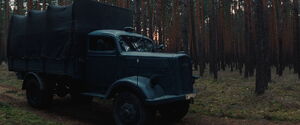 The
Opel Blitz 3,6-6700A
is a truck with 3 tons payload of Adam Opel AG. The vehicle from the "Blitz" truck program was produced for the
Wehrmacht
until August 1944 and the Opel factory in Brandenburg after the war ended at the Mannheim plant of Daimler-Benz.
In Inglourious Basterds
Edit
Aldo Raine and Smithson Utivich are loaded in one such truck at Landa's order and sent to a country tavern, where the former negotiated his surrender. Later, the German colonel and the radio operator carry the two Basterds to the Allied lines in Normandy.[1]
References
Edit
Ad blocker interference detected!
Wikia is a free-to-use site that makes money from advertising. We have a modified experience for viewers using ad blockers

Wikia is not accessible if you've made further modifications. Remove the custom ad blocker rule(s) and the page will load as expected.