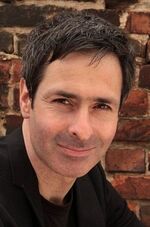 Patrick Elias (born on 9 April 1966 in Basel, Switzerland) is Swiss actor, son of Buddy Elias, first cousin of Anne Frank. He also has a brother named Oliver Elias. Patrick appeared in several films, such as Rosamunde (1990), Die Schule am See (1997) and Inglourious Basterds (2009), where he portrayed Jakob Dreyfus.
He has two daughters, Hannah Milena Elias (born on 17 July 1995) and Leah Anouk Elias (born on 9 June 9).
Ad blocker interference detected!
Wikia is a free-to-use site that makes money from advertising. We have a modified experience for viewers using ad blockers

Wikia is not accessible if you've made further modifications. Remove the custom ad blocker rule(s) and the page will load as expected.