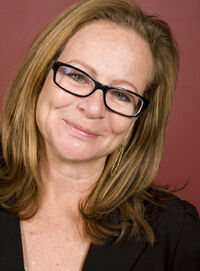 "It's not history or biography. It's a fairy tale, once upon a time in Nazi Occupied France. The point is that cinema is a powerful tool, and always has been."

―Sally Menke on the film[1]
Sally Jo Anne Menke (17 December 1953 – 27 September 2010) was an American film and television editor with more than 20 feature film credits. She had a long-time collaboration with director Quentin Tarantino, having edited all of his films until her death, in 2010. Tarantino's 2012 film Django Unchained was dedicated to her memory due to their long partnership.
References
Edit
Ad blocker interference detected!
Wikia is a free-to-use site that makes money from advertising. We have a modified experience for viewers using ad blockers

Wikia is not accessible if you've made further modifications. Remove the custom ad blocker rule(s) and the page will load as expected.