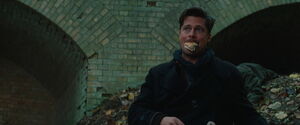 A
sandwich
is a food item commonly consisting of two or more slices of bread, with one or more fillings between them.
In Inglourious Basterds
Edit
Wilhelm Wicki is seen eating a sandwich and used the paper that was wrapped in to clean his knife. Aldo Raine is seen eating a sandwich, when Donny Donowitz beats Werner Rachtman to death.
Ad blocker interference detected!
Wikia is a free-to-use site that makes money from advertising. We have a modified experience for viewers using ad blockers

Wikia is not accessible if you've made further modifications. Remove the custom ad blocker rule(s) and the page will load as expected.