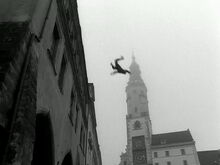 Sicily
(Italian: Sicilia [siˈtʃiːlja]) is the largest island in the Mediterranean Sea; along with surrounding minor islands, it constitutes an autonomous region of
Italy
, the Regione Siciliana (Sicilian Region).
In Inglourious Basterds
Edit
Aldo Raine mentioned that he was in Sicily, before recruiting the Basterds. Sicily is seen in the film on Hitler's map from his lair. Frederick Zoller killed 300 enemy soldiers in a fortified city in Sicily, exploits turned into a film, Nation's Pride.
References
Edit
Ad blocker interference detected!
Wikia is a free-to-use site that makes money from advertising. We have a modified experience for viewers using ad blockers

Wikia is not accessible if you've made further modifications. Remove the custom ad blocker rule(s) and the page will load as expected.