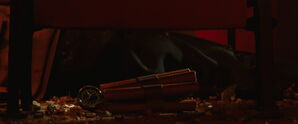 Time bombs
were explosive devices that were used by
The Basterds
during
Operation Kino
to blow up the
Le Gamaar Cinema
, in order to assasinate
Adolf Hitler
,
Joseph Goebbels
and most of the German High Command.
The bombs consist of 8 sticks of dynamite held together by a leather belt. The detonator consists of a clock-like device that looks like a dial indicator.
Three such bombs were successfully used during Operation Kino in assassinating the German High Command.
Ad blocker interference detected!
Wikia is a free-to-use site that makes money from advertising. We have a modified experience for viewers using ad blockers

Wikia is not accessible if you've made further modifications. Remove the custom ad blocker rule(s) and the page will load as expected.