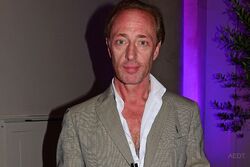 Wilfried Hochholdinger (born 8 October 1962 in Bamberg, Germany) is a German actor. He is best known for appearing in Speer und er (2005) where he played Joseph Goebbels, Inglourious Basterds (2009) where he played Ludwig (credited as German Company Sgt.) and X-Men: First Class (2011) where he played the small role of a German former Nazi hiding in Argentina as tailor, and gets killed by Michael Fassbender's character, Magneto.
Ad blocker interference detected!
Wikia is a free-to-use site that makes money from advertising. We have a modified experience for viewers using ad blockers

Wikia is not accessible if you've made further modifications. Remove the custom ad blocker rule(s) and the page will load as expected.